14
10Colorful Diwali Wishes Share Via Whatsapp and Facebook
First of all, I wish you a "Happy Diwali - 2017".Diwali is one of the biggest festival in India. This blog is specially dedicated to Deepavali Festival.Here we providing a special types of diwali wishes in all languages like tamil, hindi, english, kannada and telugu. We can generate your name in giver textbox and share it to your friends. These days we all have most of our friends and relatives keep using WhatsApp all time, and frequently checks WhatsApp Status. Below is the live demo link that will show take you to the diwali wishes page.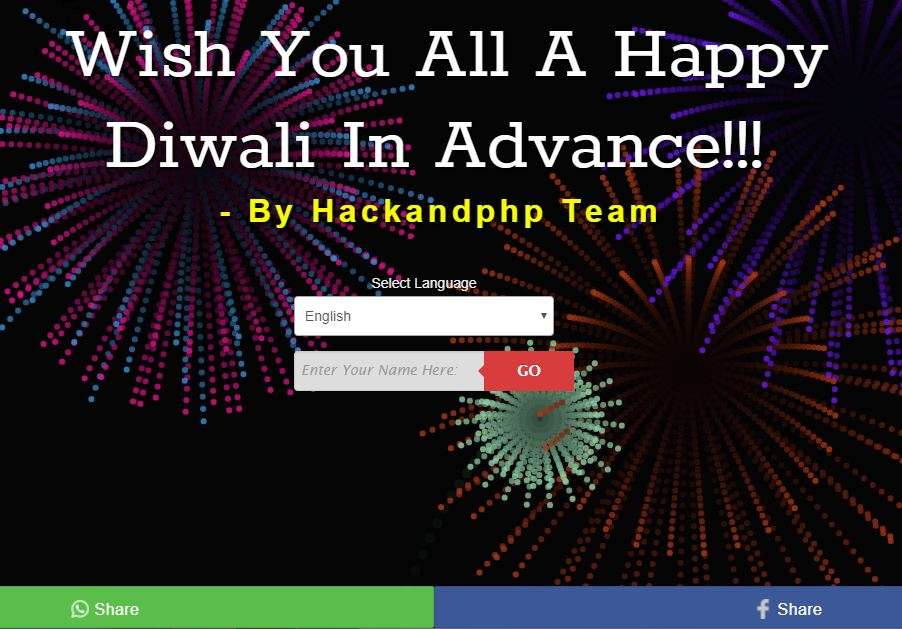 Happy Diwali Share via whatsapp & Facebook
Whatsapp and Facebbok, currently is one the biggest social network to be touch with your close friends, colleagues and relatives. With billion of active users, whatsapp tends to be the best media of sharing wishes. Nowadays, every people wishing diwali in whatsapp rather that wishing direct person. Advance wishes are trolling over social network before 10 to 15 days.
Some Famous Quotes for Wishing Diwali:
1.Diwali is a festival full of sweet, childhood memories / The sky is full of fireworks / Mouth is full of sweets / House full of diyas and hearts full of joy. Wishing you all a very happy Diwali.
2. On the auspicious day of Diwali, Wishing you success, Happiness, and Prosperity, Happy Diwali.
3. May U all attain the inexhaustible spiritual wealth of the Self.Happy Depavali.
4. May the light of diwali fill your home with light of joy and happiness.On this great day I wish you a happy diwali
5. On this great day I wish you very wonderful happy diwali and may god help you every time in your life
6. Diwali bring lots of good luck and success to you. Happy! Diwali!
By Thirumani Raj posted on - 14th Oct 2017